Oil pressure gauge YN50
1. A pressure gauge with oil, what is it?
A pressure gauge is a device used to measure the pressure of air, gas, liquid, water filtration systems, pump systems, and compressed air. When you look closely at the face of the gauge, you will notice a certain amount of oil inside the glass, which is either a Glycerin or Silicon solution.
The purpose of this oil is to reduce the vibration of the needle and protect the bourdon tube from oxidation, making it suitable for working in high-temperature or high-pressure environments. You might wonder what a bourdon tube is. Let's explore the components and workings of a pressure gauge.
2. Structure and Operation of a Pressure Gauge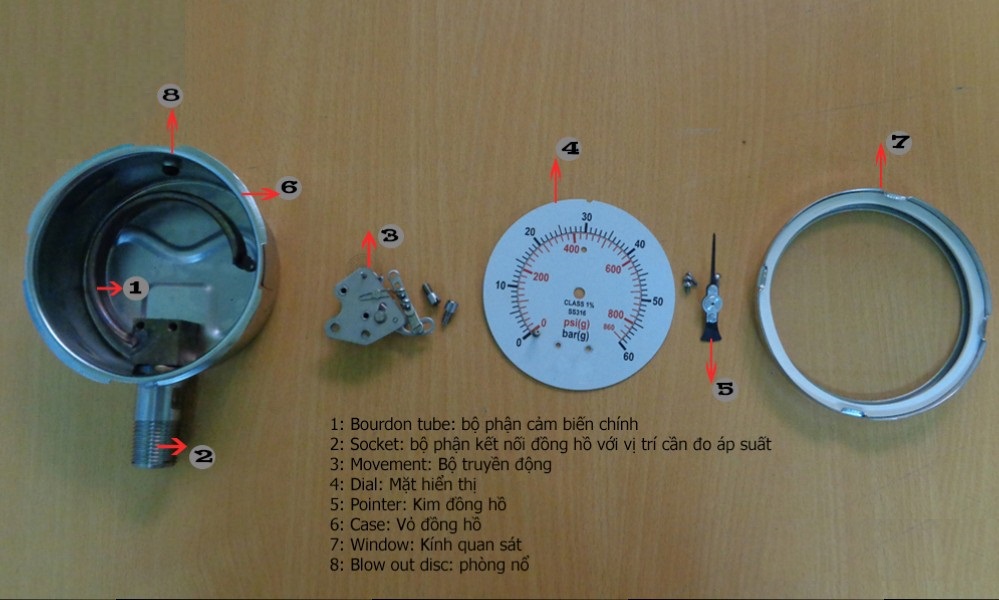 It consists of the following main parts:
Bourdon tube: The primary sensor (heart) of the pressure gauge, where it receives the pressure from the fluid being measured.
Socket: The component that connects the pressure gauge to the point of measurement.
Movement: The driving mechanism that converts the motion of the bourdon tube into the rotational motion of the gauge needle.
Dial: The display face that shows the measured pressure value.
Pointer: The needle of the gauge.
Case: The housing of the gauge, which protects its main components.
Window: The observation glass.
Blowout disc: A safety feature that, in case of a bourdon tube rupture, rapidly releases the pressure inside the gauge to protect it from damage and prevent harm to the operator.
The unit of pressure gauge measurement is as follows
1 bar = 100,000 Pa = 0.99 atm = 14.5 psi = 10.19 mH2O (meters of water) = 750 mmHg (millimeters of mercury).
The operational principle is as follows
Video on how the pressure meter works
The fluid enters the bourdon tube, causing it to expand. Through the connecting joint, the motion is transmitted and translated into the rotational motion of the gauge needle. As a result, the moving needle indicates the corresponding pressure value on the dial, allowing us to read the current pressure.
3. Technical Specifications
YN50 Diameter: 50 (mm)
Accuracy: 2.5
Case Material: Stainless Steel 304
Measurement Range: 0.16, 0.4, 0.6, 0.7, 1, 1.6, 2.5, 3, 4, 6, 10, -0.1 (MPa)
Connection: Brass thread, stainless steel thread
Threads: ZG1/8″, ZG1/4″, ø4, ø6, M14x1.5 (depending on the dial size)
Option: With oil (Glycerin solution)
Operating Mechanism: Mechanical
Origin: iGlobal-China
4. Advantages
Helps reduce gauge vibration, enabling users to easily read the pressure value.
Prevents the gauge from being damaged by condensation.
Allows the gauge to operate safely in high-temperature and high-pressure environments.
5. Applications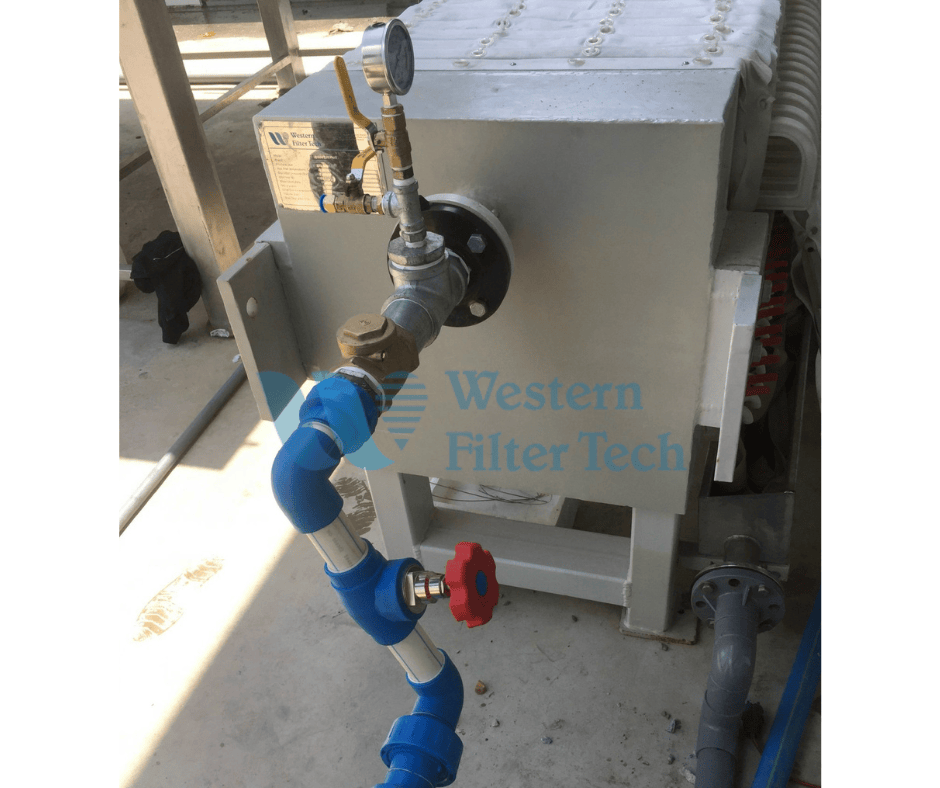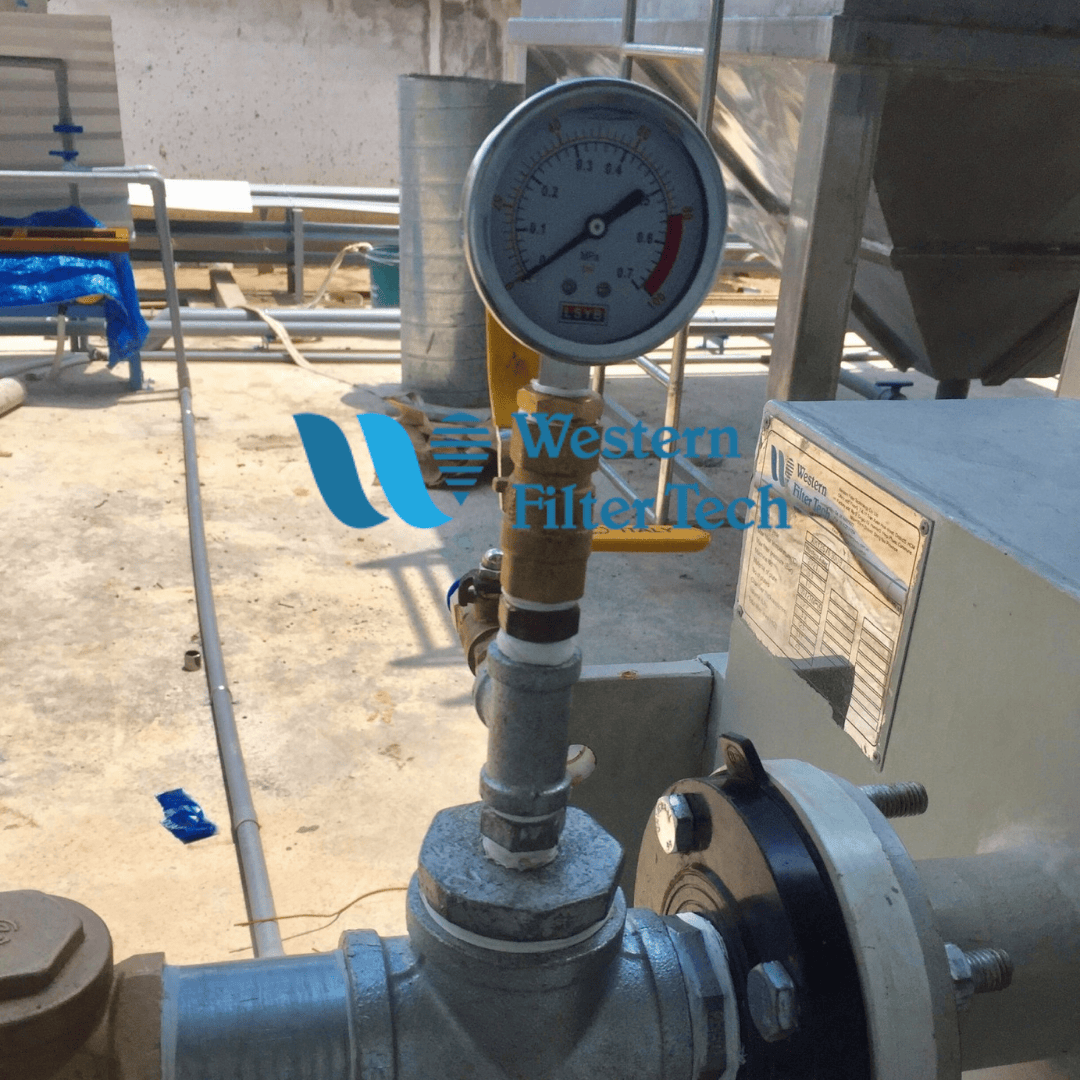 >> Similar product: Oil pressure gauge YN40

>> Fanpge Facebook: Máy Ép bùn Khung bản – Western Filter Tech

>> Hotline:0909796560 (Ms. Thanh)