The unit proposes to rent a membrane filter press
Western Filter Tech Co., Ltd
General introduction about the project
1. Scale summary
Proposing the treatment of sewage sludge for the printing ink wastewater treatment system in Duc Hoa 3 Industrial Park.
Rent a membrane filter press to run a test sample to determine the moisture content of the mud cake.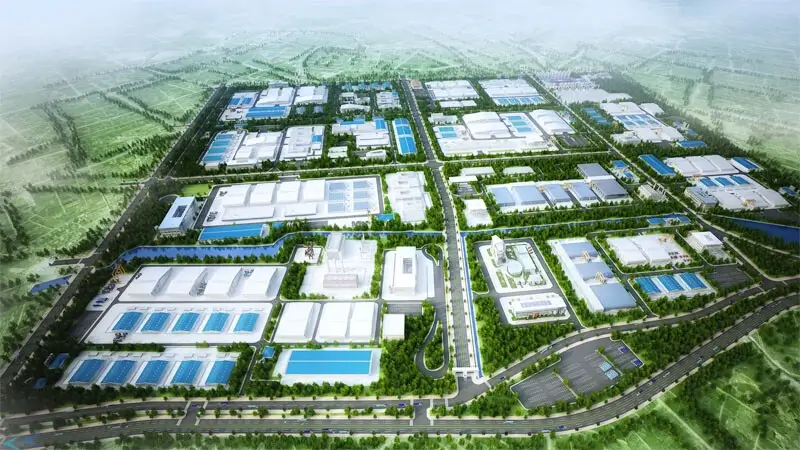 2. Objectives of the project
Find the optimal solution to treat all sludge generated in the wastewater treatment process of the plant.
Bring the mud moisture after pressing to about 60-70%.
Automate machines to reduce labor costs.
3. Factory situation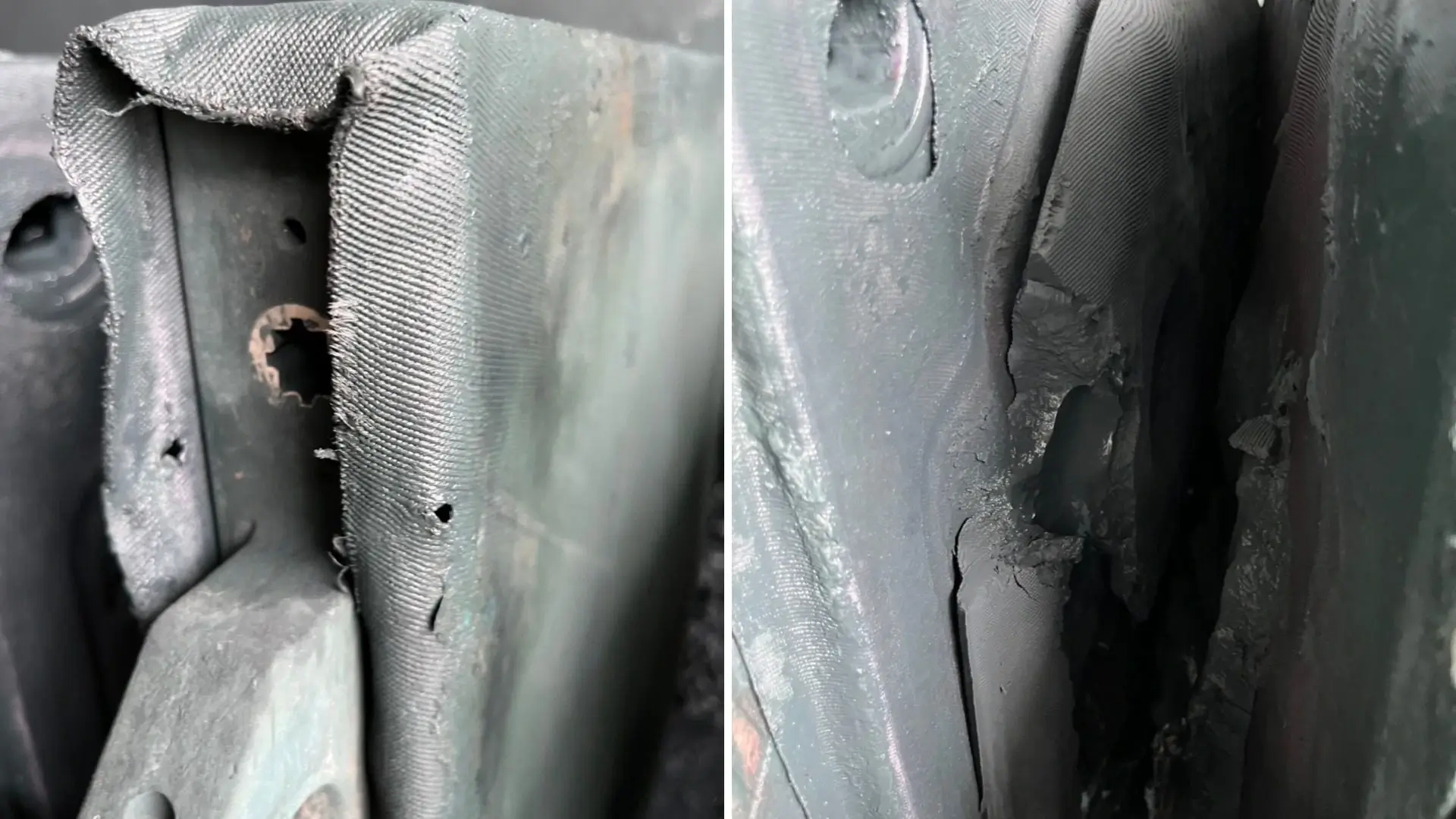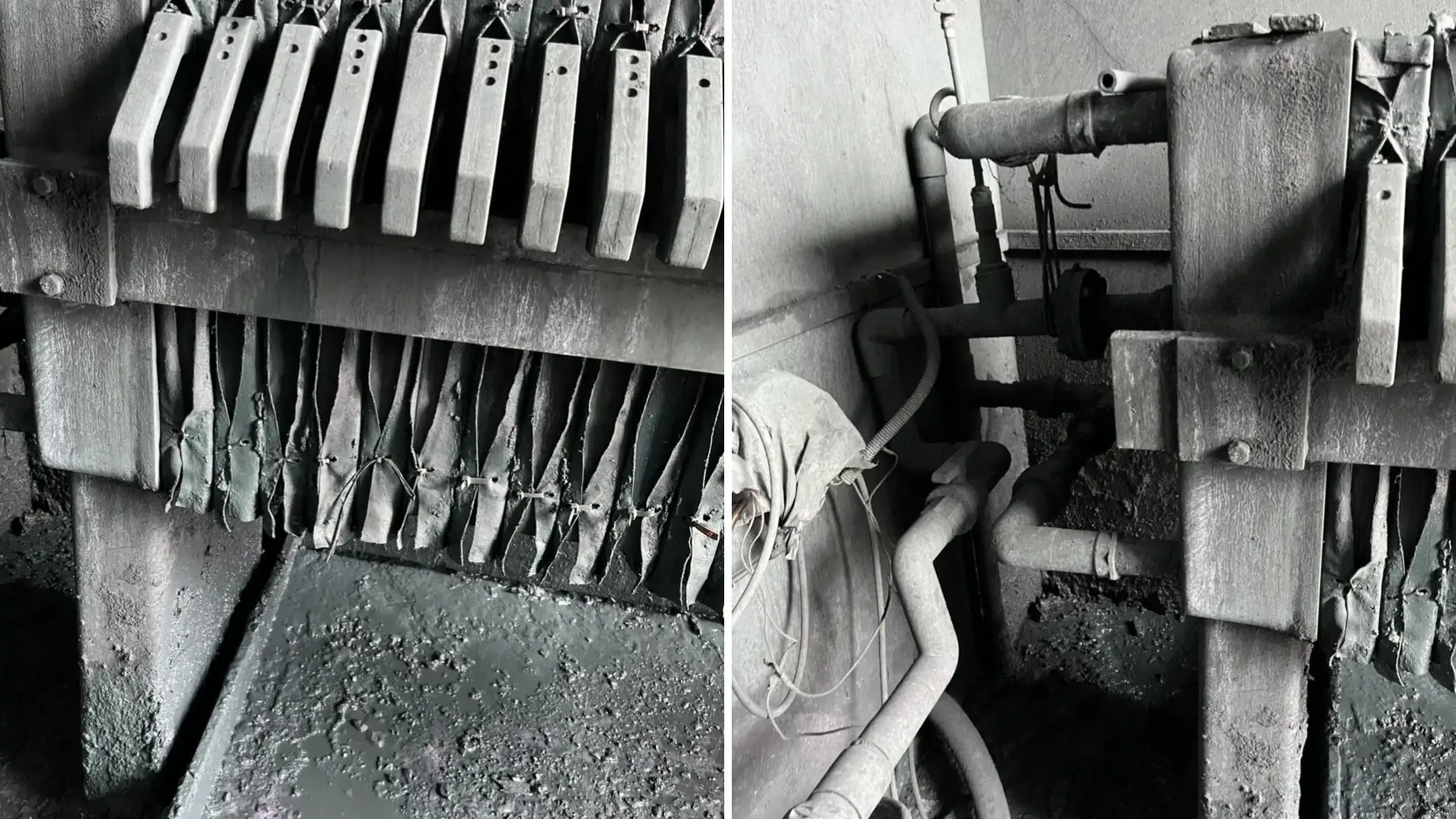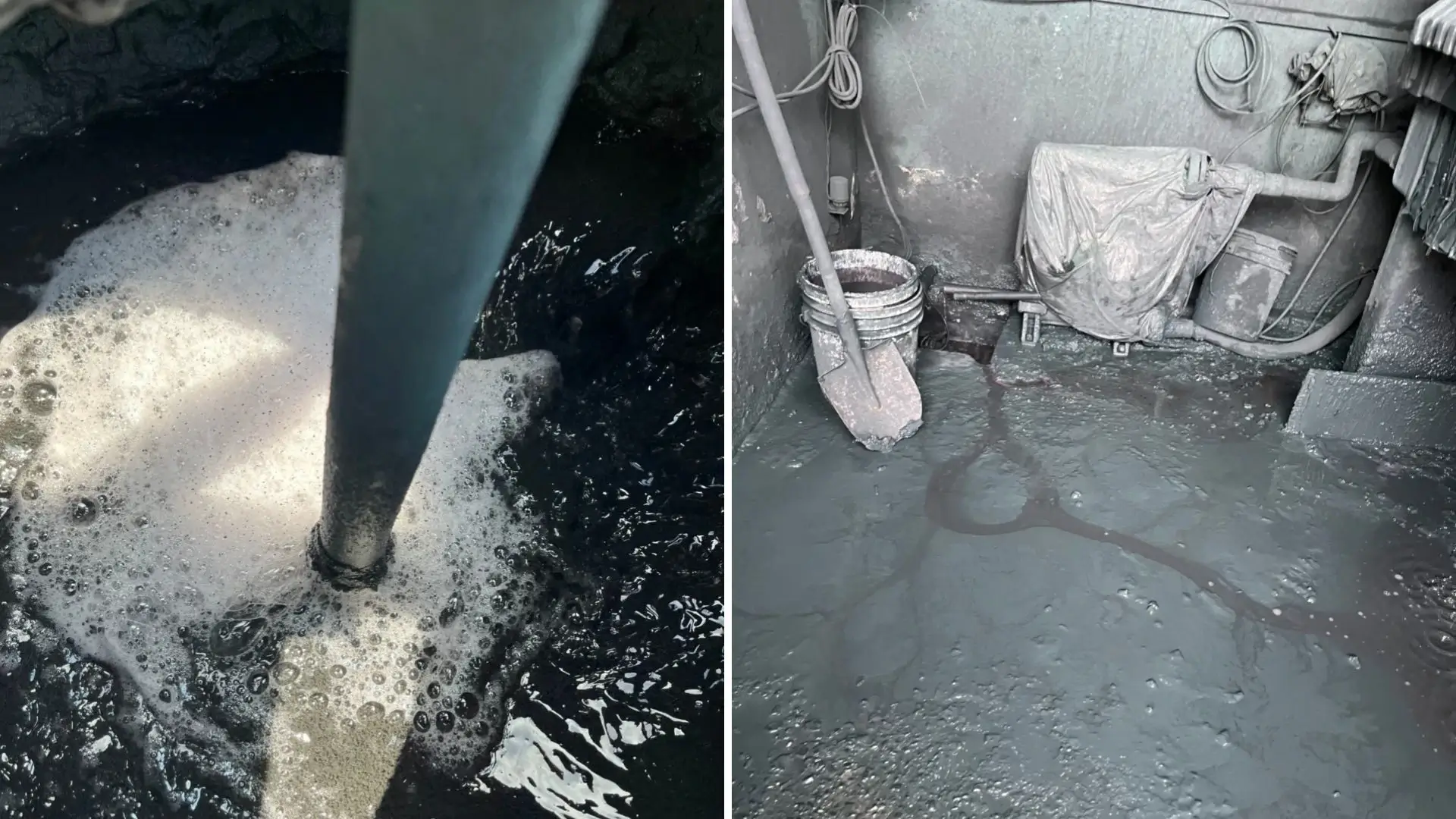 4. Assessment
Through the survey results and the input wastewater data table of the plant, the following points should be noted:
The sludge pressing system at the plant is inefficient, and the filter cloth and hydraulics show signs of serious deterioration.
Inefficient machinery leads to a large accumulation of sludge in the plant.
In addition, high humidity makes it difficult to pack for shipping.
The treated sludge is not closed, leading to the generation of bad odors for the surrounding environment, greatly affecting the health of the operator.
From the above points to meet the requirements of treating all sludge, saving operating costs and long-term calculations for the plant environment as well as the health of operators, it is necessary to replace the filter press existing version by system of automatic membrane filter press.
With the customer's expectation of moisture commitment, Western Filter conducts a rental service of membrane filter press within 2 days.
Proposing a treatment plan with a membrane filter press
1. Technological diagram suitable for sludge treatment system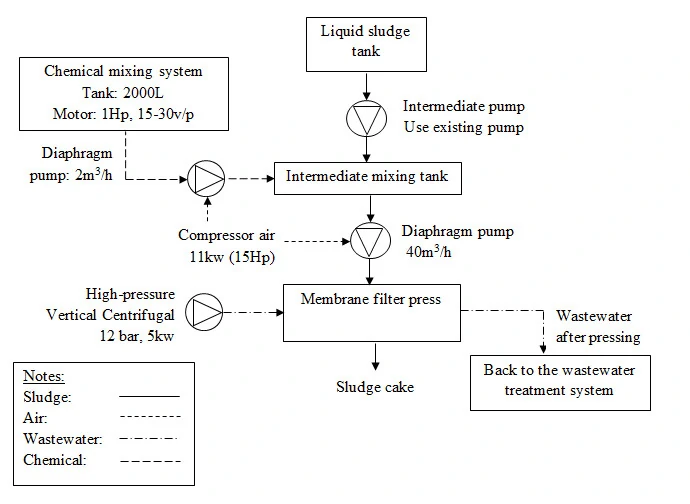 2. Rent a membrane filter press to determine the moisture content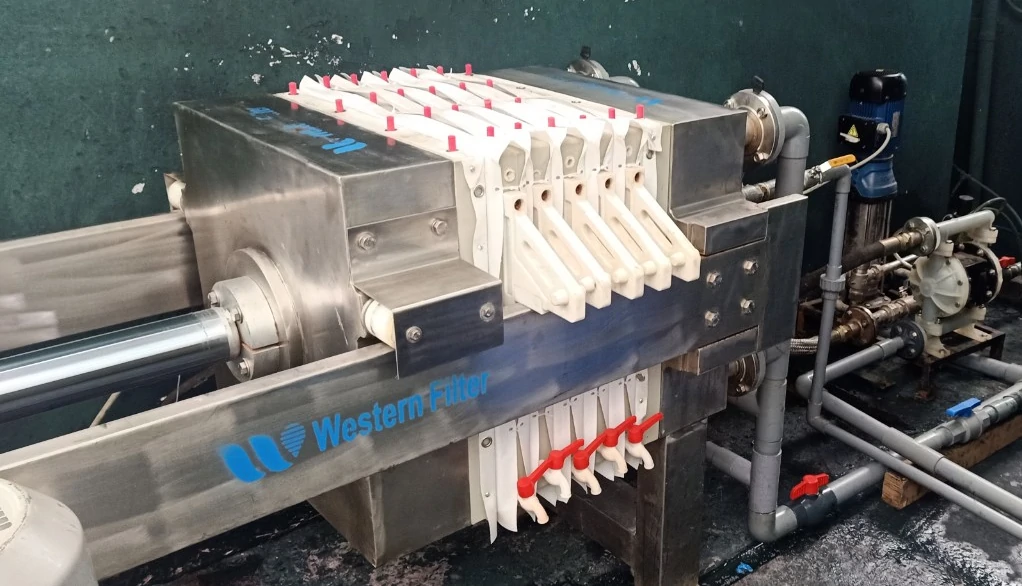 Specifications:
Machine volume: 50L/batch
Plate frame: 630x630mm
Number of plate frame: 7 pcs (including beginning and end plate frame)
Main material:
Machine frame: Made of tempered steel, 4-layer epoxy paint, chemical and mechanical corrosion resistance
Filter cloth: PP plastic fiber
Filter frame: PP plastic
Membrane frame: PP + PTE plastic
Control cabinet:
PLC: Siemens
Electronic module: Schneider
Voltage: 380V/3phase/50Hz
Hydraulic cylinder:
Cylinder: 27SiMn . weldless steel tube
Piston: 45# steel, 0.06mm Chrome plated
Heat treated to harden
Machine size and weight:
Length: 5895mm
Width: 1240mm
Height: 1200mm
Weight: 3983 kg
Main machine integration includes:
Automatic frame splitting system.
Separation mechanism: Separate each plate frame with a pull hook
Chain conveyor: 304 . stainless steel
According to the main machine include:
Hydraulic oil
Machine operating instructions
Find more about Membrane filter presses series
3. Diaphragm pump
Function: pump slurry with suitable flow and pressure to the slurry press
Type: Pneumatic Diaphragm Pump Type
Origin: BSK (CO China, CQ-test report BSK-USA)
Number of machines: 1 machine
General specifications:
Type: Pneumatic diaphragm pump
Flow: 20 m3/h
Max head: 8.3 bar
Fluid: Liquid sludge
Pump body: PP plastic
Inlet/outlet connection: 1″ (DN25) thread
Learn more about BSK diaphragm pump 1″
4. Sludge cake results after running the rental filter press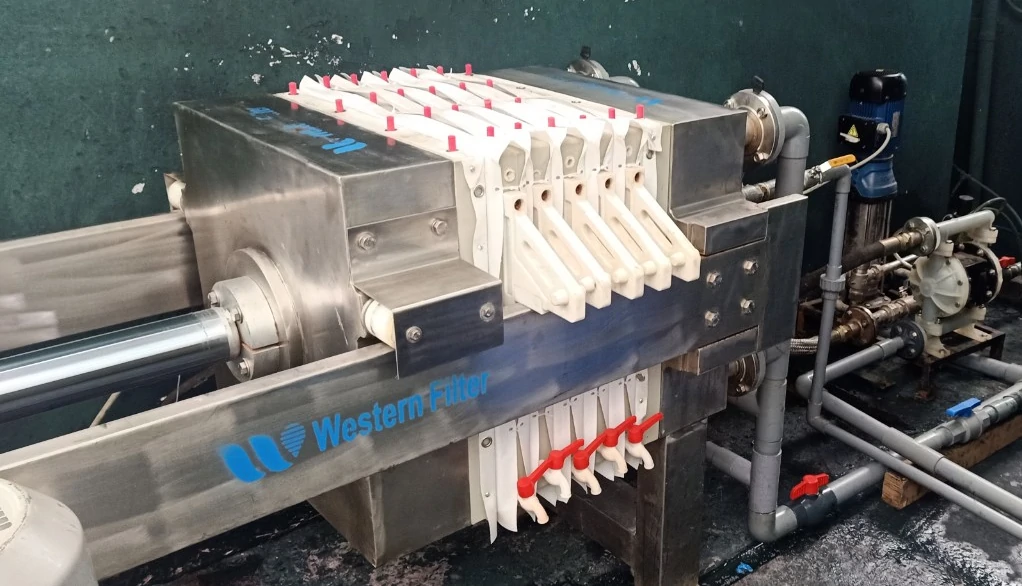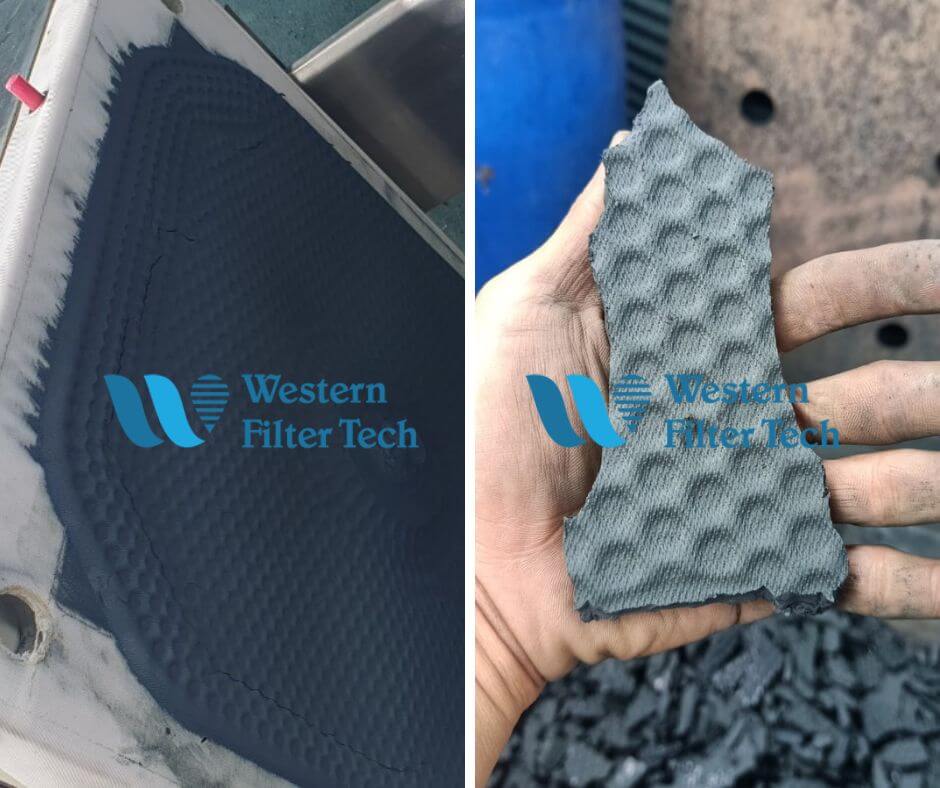 5. Compare the results
The moisture content of the sludge cake was determined by a drying balance in the laboratory of Western Filter Technology Co., Ltd, giving the following results: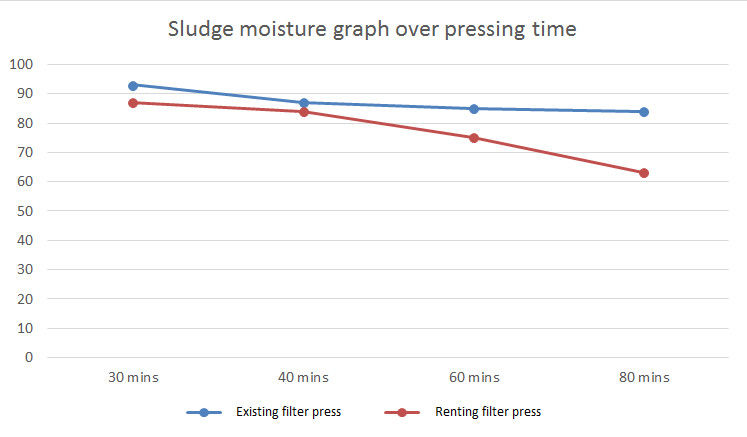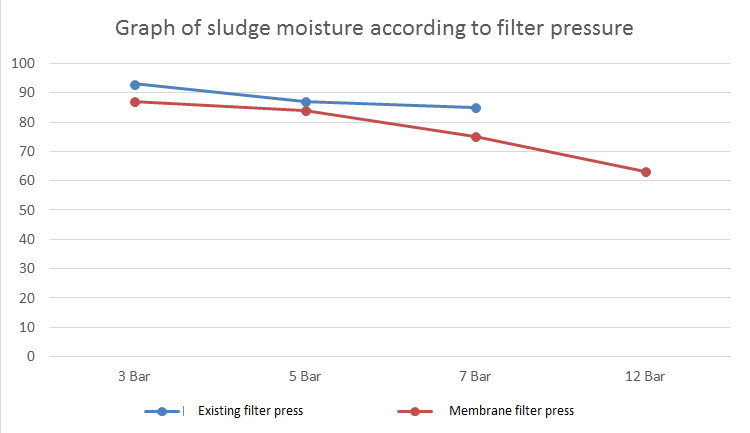 For the existing filter press machine system, the filter press pressure and the original technology lead to the pressing pressure that depends on the diaphragm pump system (up to 7 Bar) which cannot be raised to 12 bar at all, so the sludge moisture is still very low. compared to high performance machines.
This difference confirms that for a membrane filter press, the operator can completely control the filter press pressure of the machine and produce the desired sludge moisture result.
Conclusion
Through the process of renting a mud press, we can see that the output mud cake of the ink wastewater treatment system in Duc Hoa 3 Industrial Park still retains extremely good moisture without using any coagulant chemicals.
Especially, the rental fee will be completely deducted from the new machine contract. There for, the rental service of the membrane filter press at Western Filter is completely free!!!
Because our goal is always want to bring to our customers the most suitable products for each separate treatment system, of each different type of processing technology.
With an experienced technical team, it will definitely help you find a solution that is more effective than you think, while ensuring economic balance and long-term smooth operation.
We do not sell FILTER PRESS. All the values that we desire are to bring you sludge treatment solutions, enthusiasm, reputation and customer satisfaction!
>> Visit Western Filter Tech's fanpage Facebook

>> Contact now: 0909796560 (Ms. Thanh) for a free consultation!