Automatic drip trays – Western Filter
Automatic drip trays – can be a very useful option for high efficiency, automatic filter press operations, preventing leakage between small plates drops into the sludge transfer conveyor, or drips into the sludge collection chute.
Although stainless steel is standard and very popular for dip trays, it is also available in polypropylene or FRP. The troughs are installed horizontally and direct the filtrate flow to 2 troughs on both sides along the machine or can be brought to 1 trough on one side of the filter press. The water catcher runs the length of the filter press, collecting and directing the filtrate to a customer-specified discharge connection location.
Benefits when the filter press installs an automatic drip trays:
Collect any dripping filtrate during the feed cycle to prevent droplets from reaching the conveyor or sludge hopper
Retains residue of initially released filtrate before discharging the sludge cake
Allows the use of high pressure nozzles to clean the filter cloth and frame, collect the washing water, and discharge the cleaning
Retain rinse water from automatic filter cloth cleaner.
The principle of operation of the automatic drip trays:
During filtration, both trays of the automatic drip trays are closed. Due to the capillary action of the filter cloth, there may be some leakage of water that falls on it which will be picked up by the trough and flowed to the water collectors on both sides.
After the filter press is finished and before the cake is discharged, the PLC will send an electrical signal to open the machine by hydraulic ben (or operate by pressing the button on the electrical cabinet). At this moment, some water or thin mud still remains will fall into the drip tray, a few minutes later will open the leachate trough automatically to get the driest sludge cake.
See more working videos of automatic drip tray:
Image of processing an automatic drip trays for a customer who has been equipped with a filter press but has not yet been equipped with an automatic drip trays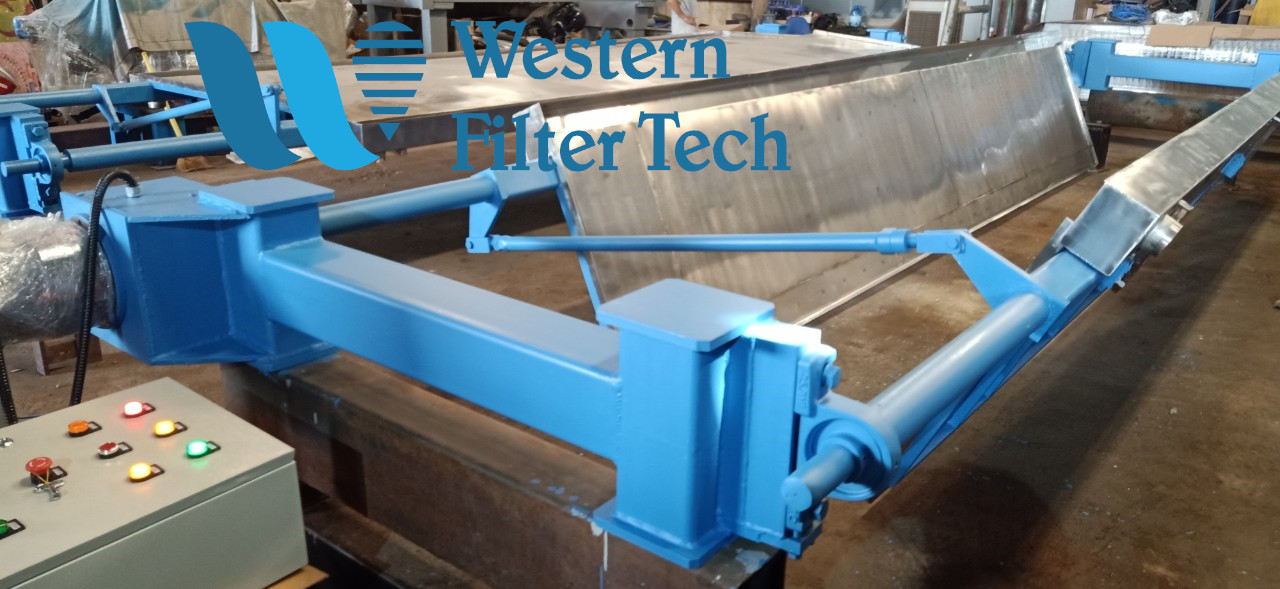 >> Find more about: Automatic Drip Tray System – MASAN GROUP

>> Maybe you are interested: Filter Cloth – Western Filter Tech

>> Fanpge Facebook: Máy Ép bùn Khung bản – Western Filter Tech